Givaudan's journey through China
China has seen unprecedented change in modern times, as its economy has blossomed to become one of the world's most dynamic marketplaces. Givaudan is perfectly placed to meet the quick-growing demand of customers and consumers for new taste and flavour experiences.
China has seen unprecedented change in modern times, as its economy has blossomed to become one of the world's most dynamic marketplaces. That history of accelerated growth reflects Givaudan's experience in China. Vernon, Head of Flavours, Greater China and Korea, has been present to oversee the many milestones covered. Here he gives a personal take on why Givaudan has succeeded in this diverse country of almost 1.4 billion people.
When Givaudan began doing business in China the economic landscape was very different than it is today, as Vernon explains, outlining how the Company first got a foothold in China: "Givaudan began trading in China in 1988 from a base in Guangzhou, near to Hong Kong. At that time it was very difficult to establish manufacturing facilities on the mainland, so we were mostly importing flavours and fragrances into China."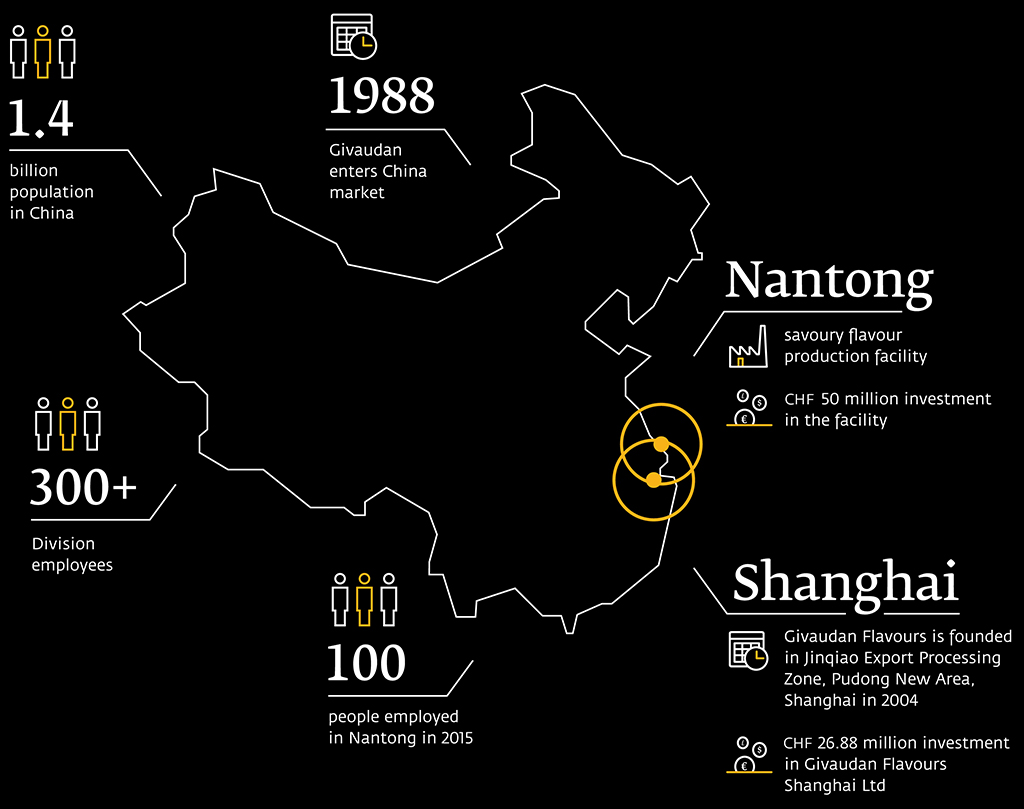 New horizons in Nantong
Nantong, in the Chinese Province of Jiangsu, has a population of over seven million people. A port city, its historic prosperity has been built on salt from the coast, as well as rice and cotton agriculture. It is also home to Givaudan's new Flavours facility, officially opened at the end of June 2015, which represents a milestone in the expansion of Givaudan's business in China.
With an investment of CHF 50 million, the new Nantong world-class facility will more than double Givaudan's current flavours production capacity, enabling us to serve customers in China more efficiently. It is the latest move in Givaudan's evolution in what is now the world's second biggest economy, with much of our history over the last three decades overseen by Vernon, Head of Flavours, Greater China and Korea.
Meeting market needs
Vernon identifies what it will mean to the Company to have the new facility up and running in 2015: "Givaudan began trading in China in 1988, and as the country has powered its way from planned economy to market economy, our business has made great strides too – so much so that we needed to increase our Flavours' operation to meet the requirements of a growing customer base."
Givaudan's customers in China and across the Asia Pacific region will benefit from faster access to its flavour and taste solutions. The new plant will strengthen the Company's existing capabilities in savoury and culinary flavour blends, snack seasonings, spray dries and process flavours.
The right site
Why was Nantong chosen as the site for the facility? Vernon again: "The region has seen industrial and economic growth over the last two decades, and a new infrastructure is in place that will serve our tranport needs well. Nantong is only two and half hours from Shanghai, and there is a well-educated local workforce in place that will meet our organisational needs. We originally considered three sites, and Nantong was deemed the best site for the project."
While the facility officially opened on 30 June, production began in April 2015, with the first batches of seasoning products witnessed by Dr. Jürg Witmer, Chairman of the Givaudan Board and Michael Carlos, Member of the Board of Directors. Givaudan CEO, Gilles Andrier, comments on the importance of the new plant: "The Nantong facility represents our largest investment in China since 2006, supporting our strategic goal of increasing Givaudan's footprint in developing markets and capturing growth opportunities in savoury, culinary and snacks segments."
State-of-the-art facilities
Nantong boasts the very latest in advanced technologies, and meets the highest global quality standards, including adherence to the strictest allergen management principles. With 100 employees in place since April 2015, Vernon points to the new site's capabilities to grow exponentially with the business: "We have created a facility that can expand in line with our planned business development strategy in China. We can actually increase production by two to three times the current output. This is of particular importance, not only to our customers in China, but also if we begin exporting to neighbouring countries in the region. So it's an investment for now, and the future."
Givaudan's journey through China continues, with Nantong spearheading a new era of innovation in savoury flavours that will surely lead us to new horizons in this region of Asia.
Moving to Shanghai
Jumping to 1995, Givaudan established its first real operations in China itself, in Shanghai, in a joint venture with a Chinese pharmaceutical company partnering Roche, the Swiss pharmaceutical company that had owned Givaudan back in the 1960s. A manufacturing plant was consequently built in Zhangjiang, a high-tech park in Shanghai, opening in 1997. Vernon picks up the story of our next steps: "As the country boomed, so too did Givaudan's business, until it was decided in 2003 that the existing facility in Shanghai could not meet the needs of both fragrances and flavours. A new flavours facility was therefore established in Jinqiao Export Area, also in Shanghai, which became operational in 2006."
What the timeline doesn't explain is why Givaudan flourished in China from the late eighties onwards. Vernon provides an insight into the Company's growth during this period: "In the early stages of its economic revival, China was a production-driven economy, but this quite quickly evolved to be a product-driven economy as consumers woke up to the reality of expanding choices. The final stage is that China became market-driven, as people earned more, and began travelling around the world, becoming aware of ever more desirable choices. This huge appetite for difference is acute in terms of foods and beverages and so Givaudan was perfectly placed to meet the quick-growing demand of customers and consumers for new taste and flavour experiences."
International, regional and local customers
The customer profile for Givaudan also changed during this time. In the late 1980s and early 1990s our customers were mainly state-owned local enterprises. However, in the 21st Century some of the world's biggest, most successful organisations also established operations in China. Vernon again: "We have seen multinationals enter the marketplace but also major regional brands, from Japan, Taiwan, Korea, the Philippines and other countries from Asia. All of this activity has powered the growth for our flavours expertise. Today, that has meant that we are servicing approximately 1,000 customers in China."
Chinese ingredients in health and wellness products
Health and wellness is a growing area for Givaudan, as the population becomes more affluent and increasingly health-conscious, and our customers transform these developments into the foods and drinks consumers aspire to purchase. Vernon points out that local market inspirations account for many recent areas of flavours innovation and exploration: "In terms of health and wellness, local Chinese ingredients such as tea, ginger and chrysanthemum, for example, are very important in complementing Western flavours, and go into all our different categories, including beverages, dairy and sweet goods. So this is a big area of interest that we are able to explore with customers.
China is discovering its own flavours
Truly authentic flavour profiles are very important to Chinese consumers so to assist our customers we focus closely on capturing the tastes of China's regional flavours: "The different provinces have very distinctive local cuisines, often built around a wide range of spices," says Vernon. "We're working with our customers to put the essence of local dishes into our flavours, and this is proving successful. There is also a lot of mobility across China, so people are discovering new flavours, naturally, all the time as they move around, and they want to find those flavours when they return home. CulinaryTrek® is just one solution that has enabled us to build in authenticity to our customers' products, bringing quality, and regional home-cooked flavours to China's supermarket shelves."